Apple Watch Bands
Cardi
We have crafted a single durable Apple Watch nylon band with a comfortable, fabric-like feel.
Colors - Black, Pink, Yellow, Blue, White
2 pieces ballistic nylon band
1.8mm thick
Matching sewings
Regular price
Sale price
$39.00
Sale
Sold out
30 Day Money-Back Guarantee
+ 3-Year Warranty on Hardware (buckle, locking mechanism)
+ 1-Year Warranty on Band Material
Fits 38mm, 40mm, 41mm 42mm, 44mm, 45mm, and 49mm case sizes for the Apple Watch Series Ultra, 8, 7, 6, SE, 5, 4, 3, 2, and 1. It also fits special editions like Nike+ Sport, Hermès, and ceramic models.

Regular Size (R)

Our "Regular" band's length is 235mm (9.25 inches) with the Apple Watch attached with 10 holes. It fit wrist sizes 5.5" to 8.5"

Please measure your wrist's circumference with a soft tape measure.

XL and XXL Size

Our "XL" band's length is 270mm (10.6 inches) with the Apple Watch attached and 10 holes. It fits wrists sizes 6.5" to 9.25"

Our "XXL" band's length is 295mm (11.6 inches) with the Apple Watch attached with 10 holes. It fits wrist sizes 9" to 10.5"

Please measure your wrist's circumference with a soft tape measure. Just because you are 6'2 and 250 lbs, doesn't mean you need an XL band :)
Why aren't all the patterns the same?

In the textile industry most companies use what is called a step and sew method to ensure every item is identical. This comes with a lot of wasted material. With our method we produce a 0 waste product.
View full details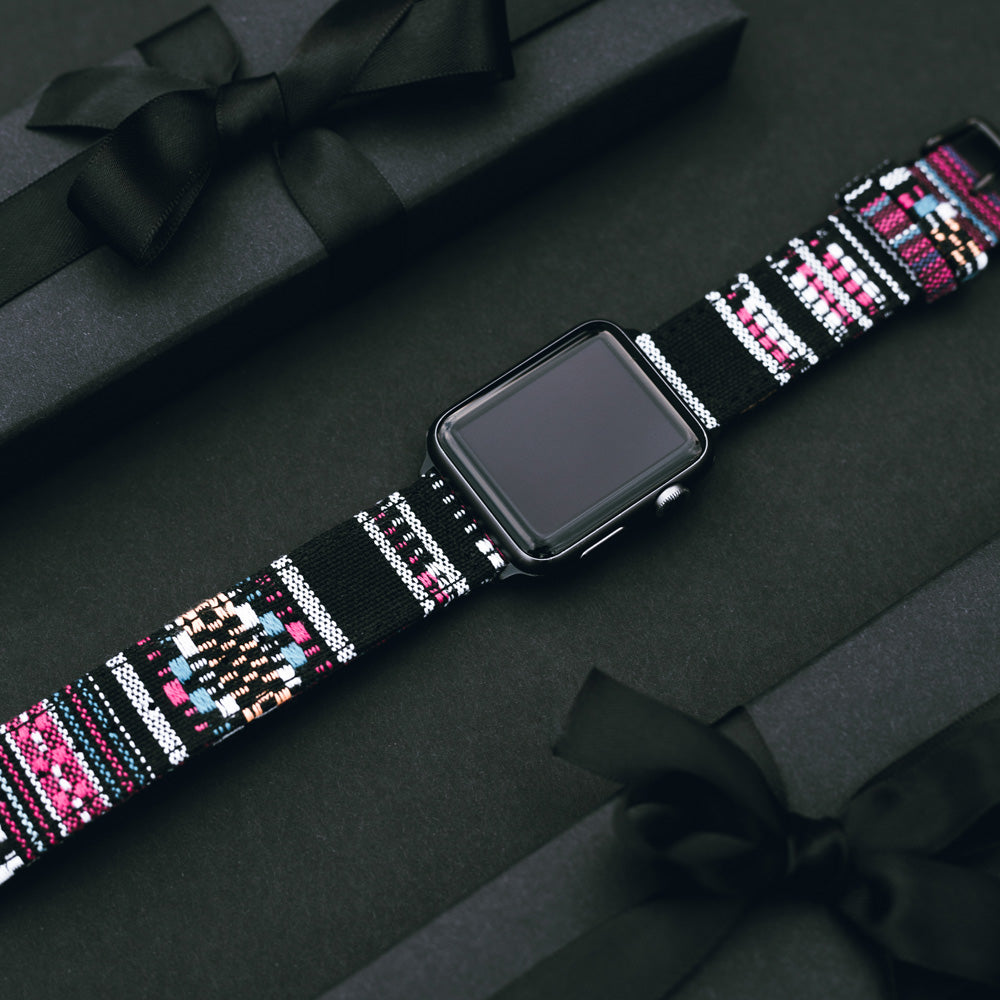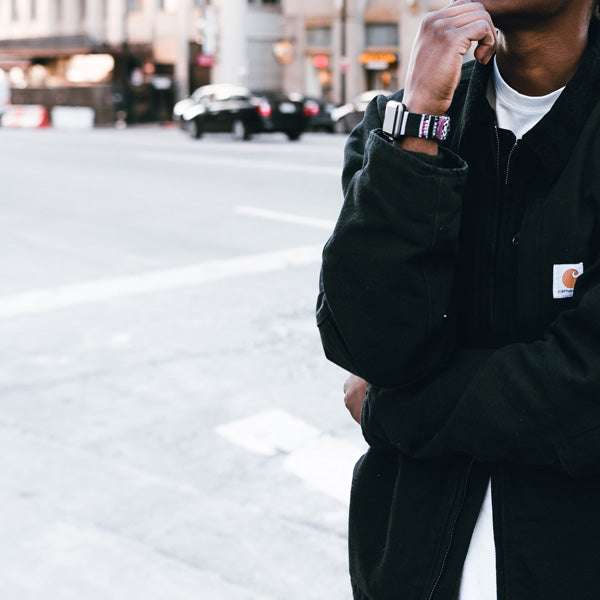 Customized Uniqueness
At the heart of our product range lies the belief that each band, like you, has its own unique character.
Instant Style Switch
Our bands enable a quick style makeover each day, with the easy-swap feature catering to your fashion needs.
Global-Inspired Design
Our bands, imbued with design elements from our worldwide travels, bring a piece of the globe to your wrist.
ONE OF A KIND
You won't find any other straps like ours. Each unique in nature with vibrant colors, excellent craftsmanship, and a bit of Nyloon flare.
For Apple, Samsung, FitBit watches.
"I have about 6 different bands from Apple but this one is hands down my favorite band. So comfortable, looks great and fits perfectly on my small wrist."
- Lucia V.
Sport & Splash Swap
From Workout to Water: Switch in a Flash!
From gym sweats to pool splashes, our nyloon bands have your wrist covered!
Dive into our tutorial to switch from wet to wow in seconds. It's as easy as 1, 2, see!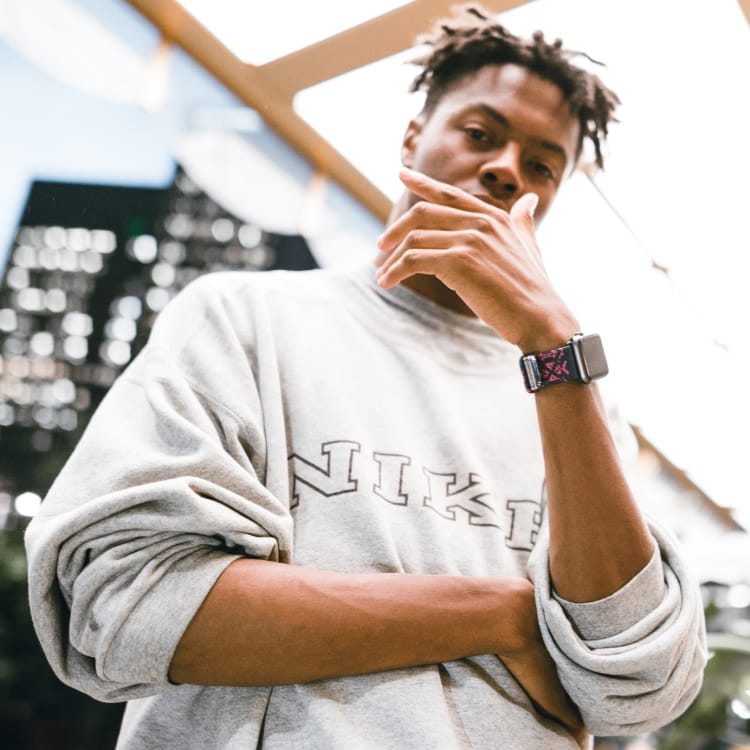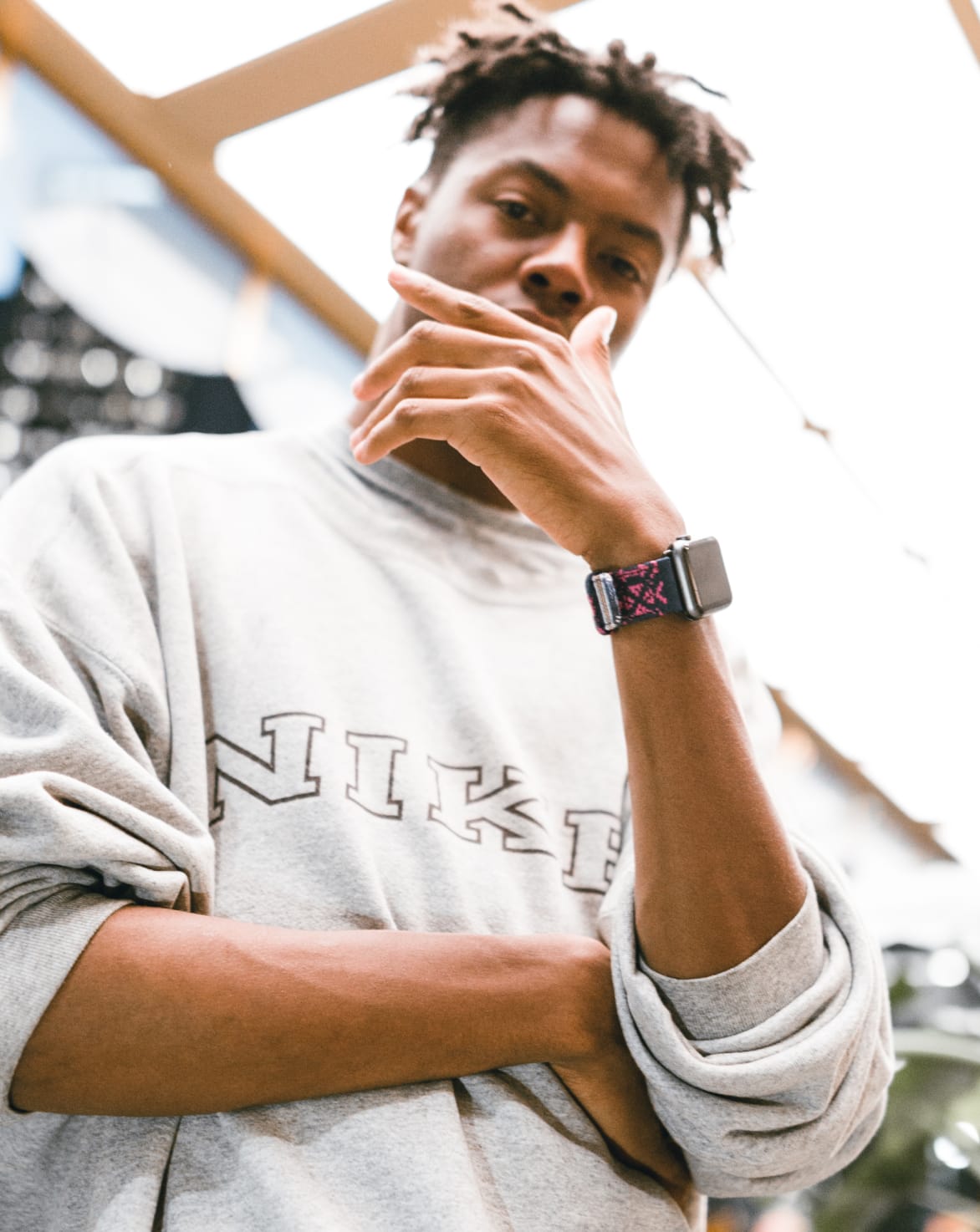 Band Benefits
Unleash the Exclusive Advantages of Our Bands
Dive into the distinct benefits of our unique bands
Uniqueness That Turns Heads

Each of our bands is a one-of-a-kind accessory, crafted with vibrant colors and unparalleled craftsmanship. Guaranteed to elicit compliments, our bands add a touch of distinctive Nyloon flair to your attire.

Cruelty-Free Quality

Say goodbye to mundane leather with our high-quality, hand-stitched fabric bands. Our bands are animal-free and suitable for every occasion - be it a gym session, a date night, or even a wedding.

Global Inspiration

Our bands carry a dash of world culture on your wrist. Each pattern is meticulously designed in our Sarasota, FL studio, inspired by our globetrotting adventures.

Unmatched Versatility

With our bands, adaptability comes guaranteed. They effortlessly transition from your morning gym routine, through your office hours, to your evening date, ensuring style and comfort on any occasion.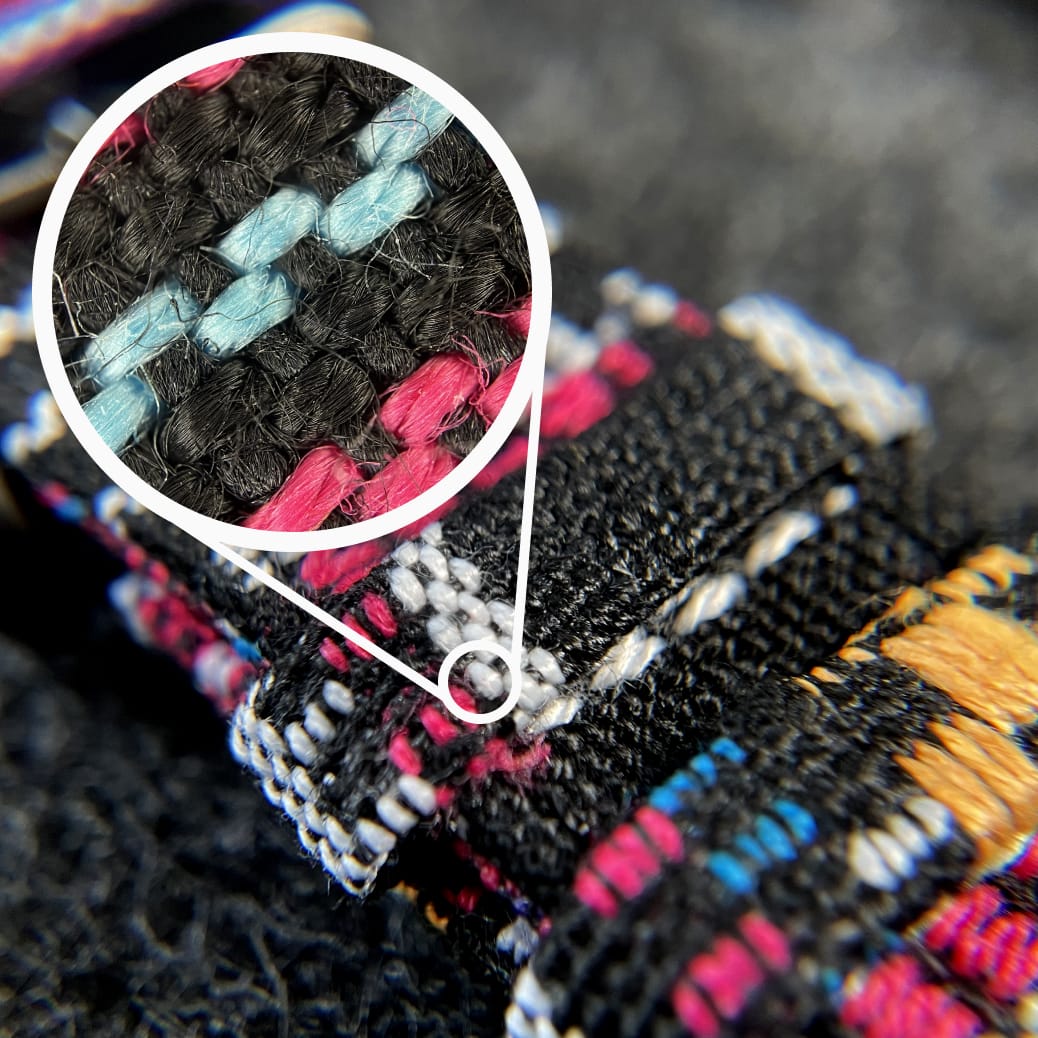 Nyloon Up Close
A Macro View of Mastery
Beyond its stylish exterior lies a world of exceptional craftsmanship, ensuring that each band isn't just about looks but also about lasting performance.
Benefits of Nyloon Material:
Durability: Nyloon bands withstand daily wear like a champ.
Comfort: Soft on skin, ideal for the sensitive or allergic.
Versatility: Vibrant colors and designs for every style.
Water Resistance: Great for swimmers; handles splashes effortlessly.
Easy Maintenance: Just wipe to refresh.
Customer Reviews
What our customers say about us...
Thoughts on the Cardi watchband
Like every Nyloon band I have, the Cardi is a high-quality product that is guaranteed to last for many years to come. The vibrant colors really do stand out and garnered many unsolicited compliments from my co-workers. With Christmas just around the corner, I've asked my family for the few remaining watchbands that I've yet to obtain as potential gifts. I really do love this product and would strongly recommend others to "follow suit," and purchase one of their own. I promise you...you will not be disappointed.
Watch Band
Loved the Cardi watch band!
Looks so good!
I love this band. It adds color and pattern - looks great. It's comfortable and well made. Ordering was easy and shipping was fast - I'll be buying a second band and maybe more!
Love these bands!
This is my third purchase of the Nyloon Apple Watch bands. They are well made and beautiful. Love them!
Love this band!
It feels great and have had many people comment on it! Wear it with everything.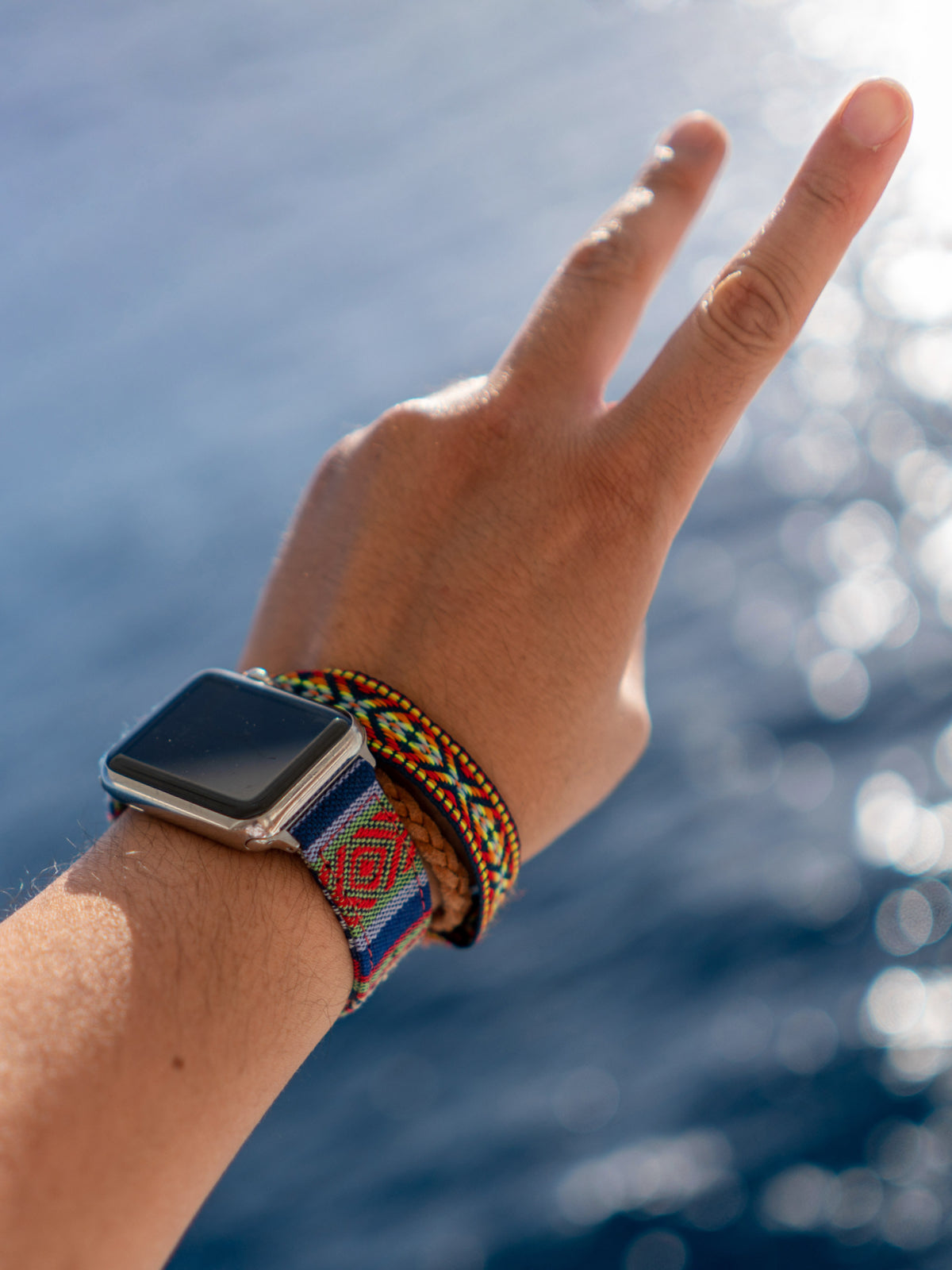 Customized Uniqueness
Discover Your Band's Unique Charm
Tailored Assistance for Your Perfect Match
Our bands are as unique as you are, with each pattern differing subtly. This means your band may not exactly match our product image, possibly boasting more white at the top or bottom.
But if you're set on a look similar to our showcased band, we're here to help. For an extra $25, we'll unseal our inventory to find three bands closest to your preference. These options will be emailed for your approval. Find your uniquely stylish band with us today!
Why aren't all the patterns the same?
In the textile industry most companies use what is called a step and sew method to ensure every item is identical. This comes with a lot of wasted material. With our method we produce a 0 waste product. 
FAQ'S
Got Questions? We got Answers
Does Nyloon ship worldwide?

Yes, we do ship worldwide. In the unlikely event you are in a country where we find restrictions, we will inform you before shipping to find a solution.

When will my order ship & when will I receive it?

All orders are shipped within 24 to 48 hours Monday to Friday. 

Express orders are shipped the same day if ordered by 11AM EST.

If you need your order by a specific time please order express.

All orders placed after 11AM EST on Friday will be shipped on Monday.

Transit time may vary depending on the destination country.

As a rule of thumb, transit times are as follows:

USA: 1-7 business days depending on shipping method selected
Europe: 10-15 business days
Asia: 10-15 business days

In some rare cases, international shipments can take up to 30 days to arrive.

Public holidays, postal and customs administration may also delay the delivery. You're fully responsible of custom charges (if any).

Shipping Responsibilities: It is your responsibility to provide a full and complete address. We cannot be responsible for packages that are undeliverable because of the wrong address, incomplete address, or addresses so heavily abbreviated that the mail person does not know where the package should be delivered. If you live in Apartment 2A please enter Apt 2A vs just 2A

It is your responsibility to provide us an address that is safe and secure for mail delivery or pay for signature confirmation.

You can also call your local post office and have them hold your mail for pickup at no additional charge.

We cannot be responsible for stolen or lost packages unless we shipped to the wrong address.

We ship our straps with USPS, FedEx and DHL.

However for some countries, Deutsche Post cannot display the whereabouts of the item in real time due to system limitations.

To fix this, you will need to check your tracking number in your local courier's website.

Some of the most commons are:

USA - USPS
New Zealand - NZ Post
France - Chronopost
Germany - Deutsche Post
Canada - Canada Post
Singapore - Singpost
UK - Royal Mail
Italy - Poste Italiane
Australia - Auspost

Do I get a tracking number for my shipping?

All orders are shipped with a tracking number and will be provided in your shipment notification email.

International customs and other taxes

Import duties, taxes, and charges are not included in the item price or shipping cost. These charges are the buyer's responsibility (if any).Please check with your country's customs office to determine what these additional costs will be prior to buying.

For packages that may have been lost in transit, delivered to the wrong address (a lot of time a neighbor) we will wait seven days after the original delivery date to see if the package arrives late.

From our experience, giving that extra time often allows time for the shipper or customer to locate the package and get it out for re-delivery.

Please contact us so we can try to expedite this process by calling the shipping company asap.

Will your watch band fit me?

Our regular bands are 235mm or 9.25 inches with the watch attached with 10 holes and fit wrists 5.5" to 8.6"

Our XL Bands are 295mm or 11.6 inches with the watch attached with 10 holes and fit wrists 9" to 10.5"

Can I order customised straps?

Custom straps are an amazing way to motivate and inspire your Team. Minimum order quantity is 35 units and we can give you a discount for volume.

Can I return or exchange my nyloon strap?

You can return your band within 30 days of purchase.

You can exchange your band for a different size or color at any time.

Return Shipping is the responsibility of the buyer and shipping on the original order is non-refundable.

Customs duties and taxes are non-refundable through Nyloon.These funds may be recoverable by contacting your local customs office directly.

IMPORTANT: please be sure that your band is in its complete original condition if you tried it on. We do not accept bands that have shown any kind of wear because they have been mounted or worn due to hygiene issues: bending, sweat, cologne, perfume, etc. It is ok to try on the band, but make sure it's in the original condition if you do so as we will deny the return or exchange.

To return the band or If you have received a defective product, please reach out to us at cc@nyloon.net.

The price only shows in usd. Can I pay with a different currency?

Our prices are showing in $ as default option. You can purchase as usual, and during the checkout process our payments processor will convert your currency to the $ equivalent.

Which payment options are available?

Currently we accept PayPal, Shop Pay, Google Pay, Apply Pay, Visa, Master Card, American Express, and Discover. 

We put a lot of effort in creating our bands and we personally check every single one before shipping to ensure that it meets our quality standards.

Our bands adapter, clasp, and buckle hardware are covered by a 3 year warranty from the day they were bought and our bands are covered by a 1 year warranty of faults in materials, workmanship and excessive fraying, ripped loops when used under normal conditions and for the purpose intended and when proper care and upkeep has been given to the band.

This warranty doesn't apply if damage is caused by unreasonable use or neglect, normal wear and tear, or if you change your mind about your purchase.

In order to make a warranty claim, you need to have purchased your Nyloon through our website.

We reserve the right to issue a credit, refund or replacement for band warranties.

There is also a $20 warranty replacement fee.

Any adapter hardware warranties are replacement only of the defective hardware parts.

Warranty claim shipping is the responsibility of the buyer but we will take care of return shipping back to you in the instance we issue a replacement.

If you purchased your watch in the last 30 days return shipping is on us.

We also understand that accidents can happen, but unfortunately we don't cover the Apple Watch damage. It is your responsibility to carry insurance for your Apple Watch either through AppleCare+ or another insurance carrier.

The Nyloon warranty sits alongside applicable consumer protection law.

To make a claim, please email cc@nyloon.net with your order details and a description of the fault or damage.

Including photographs of any fault helps a lot in speeding up claims.